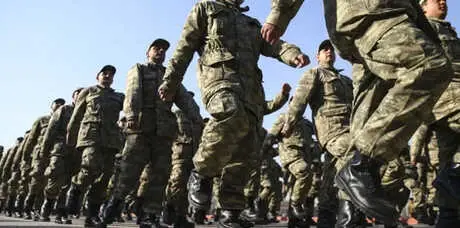 Turkey's Professional Football Association (TPFD) announced the value of 853 professional footballers will benefit from the army.
TPFD website on the statement, as a result of interviews with officials of the Ministry of National Defense 853 professional footballers to perform military obligations outside the football season was expressed.
The statement, President Recep Tayyip Erdogan, especially the issue of National Defense Minister Hulusi Akar, has been approached by the Secretary of Defense of the Ministry of National Defense (ASAL) Davut Allaja and the Ministry of Defense who are all interested in the matter recorded.
77 players from the Super League Sports Toto Super League 77 footballers will benefit from the military service.
Most candidates for military service in the professional championships came from the 3rd TFF Association with 361 footballers.
The list of professional tournaments, including footballers benefiting from military service, is as follows:
1. TFF 3. League: 361 players
2. TFF 2. League: 299
3. Sports This 1st Class: 116
4. Super League Sports Bet: 77
The Super League report Medipol Basaksehir and Iron Group Sivasspor, the Sports League Super League, most players benefited from the military service.
7 players from these 2 teams will benefit from the military service.
In other clubs, the classification is as follows: Besiktas, Attiki Konaspor (6), Eikir Jay Malataspor, Kasimbas, Antalyaspor, Buyushehir Beleduc Erzurumspor (5), Achisharspor, Kagir Rizespor, Fenerbahce, Galatasaray, (3), Göztepe, MKE Ankaragücü (2).
Bedell reports statistics on military service in Turkey's professional tournament payment instead of the military service with the figures announced by the tpfd's championship as follows:
Number of Turkish footballers in professional tournaments: 3 000 162
Number of footballers benefiting from military service: 853
Groups where no footballer has been submitted: 2 (Gaziantepspor, Bucaspor)
The team with the largest number of footballers: Keciörengcı (16)
Link with the highest number of candidates: TFF 2. Lig White Group (150)