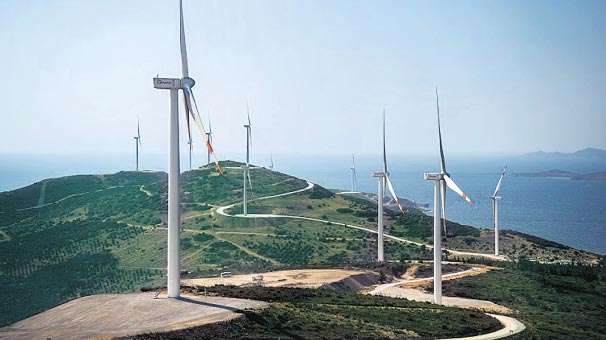 Renewable Energy Areas (YEKA RES-2) will be built with a $ 1 billion investment in the field of wind power. With the new specification, there will be no requirement for a domestic partner for foreign investors. The industry believes that a 15 year warranty will make it easier to find credit.
The deadline for submitting the application expires on March 7, 2019. In Balıkesir, Çanakkale, Aydın and Muğla, the YEKA RES-2 tenders, which aim at generating 250,000 megawatts of wind power, can be registered as joint ventures or not for Turkish companies. The financial capacity of the bidding companies, the last 3 years of sales revenue of £ 150 million or more or by the end of 2018 the asset size should be £ 45 million and more.
Inherent production requirement
Wind turbines have to comply with the latest technologies and series of IEC 61400 standards and have a minimum power of 3.0 MWe. In the case of investments in wind energy, the detection rate will be 65% for the tower, 60% for the wing and 51% for all other wind turbines. The turbine rate will be 55 percent. The capacity of each turbine to be used in factories with investment value of $ 1 billion will be at least 3 megawatts or more and will ensure that larger turbines with larger capacity than the YEKA RES-1 project are used.
More entries
The selected areas within the scope of YEKA RES-2 are among the categories 1 and 2 that show suitability for production. Since four different contests will take place for 250 megabytes, the intention is to make projects faster and easier with the participation of large investors as well as medium investors. The price cap will be valid for 49 years for the company or companies that won the auctions that will open at $ 5.5 per kilowatt-hour. Winning companies or companies should apply for pre-authorization within the first 24 months and start generating electricity within the following 36-month maximum. Thus, at the end of 60 months, the first generation of electricity in wind farms in these areas will take place. When a total of one thousand megawatt power plants in full capacity to produce 3.4 billion kWh of electricity annually Turkey's assembly by the end of 2017 of 294 500 million kWh of electricity consumption to cover about 1.1.
Turkey's Wind Energy Association President (TÜREB) Mustafa Serdar Ataseven, "Yella's second wind initial peak price of $ 5.5 per cents kilowatt / resolve at reasonable levels. With All Developments Turkey Electricity Transmission Company "The design of the basin has been made by YEKAs tarafından.
15 years warranty advantage
Turkey's Wind Energy Association President (TÜREB) Mustafa Serdar Ataseven, noted that increasing efficiency of wind technology, turbine develops and cheaper prices. Ataseven, the previous YEKA Wind Energy Auction at the price of $ 3.48 / cents recalled. In new offers, the proposed price will be guaranteed for 15 years, but the period of validity will be 49 years, Ataseven said. In We propose to buy 15 years as TÜREB, because it is easier to find financing.