After Olympus unveiled the previously announced M.Zuiko Digital ED 5.0-6.3 / 100-400mm IS in August (internal reference), the M.Zuiko Digital ED 4.5 / 150-400 mm TC1.25x IS PRO comes with an extra super tele Built-in 1.25x teleconverter on the market from the end of January 2021. It covers a focal length range from 300 to 1000 mm which corresponds to the format of 35 mm and is therefore an important and useful innovation for animal, nature and sports photographers.
The lens is based on the Micro Four Thirds system standard and has a built-in 5-axis synchronization image stabilizer with 8 EV level motion compensation (according to the CIPA standard). Allows portable super telephoto recordings in many critical situations. The lens can also be used in conjunction with the optional 2-way teleconverter MC-20 and then offers a focal length of up to 2000 mm relative to small images.
Also ideal for walking distance The M.Zuiko Digital ED 4.5 / 150-400 mm TC1.25x IS PRO has a narrow focus of 1.3 m, which can be used in the full zoom range and offers the ability to take close-ups with a maximum image magnification of 0.57x. With the built-in inverter, it is possible to record tele macros with a 0.71x image magnification.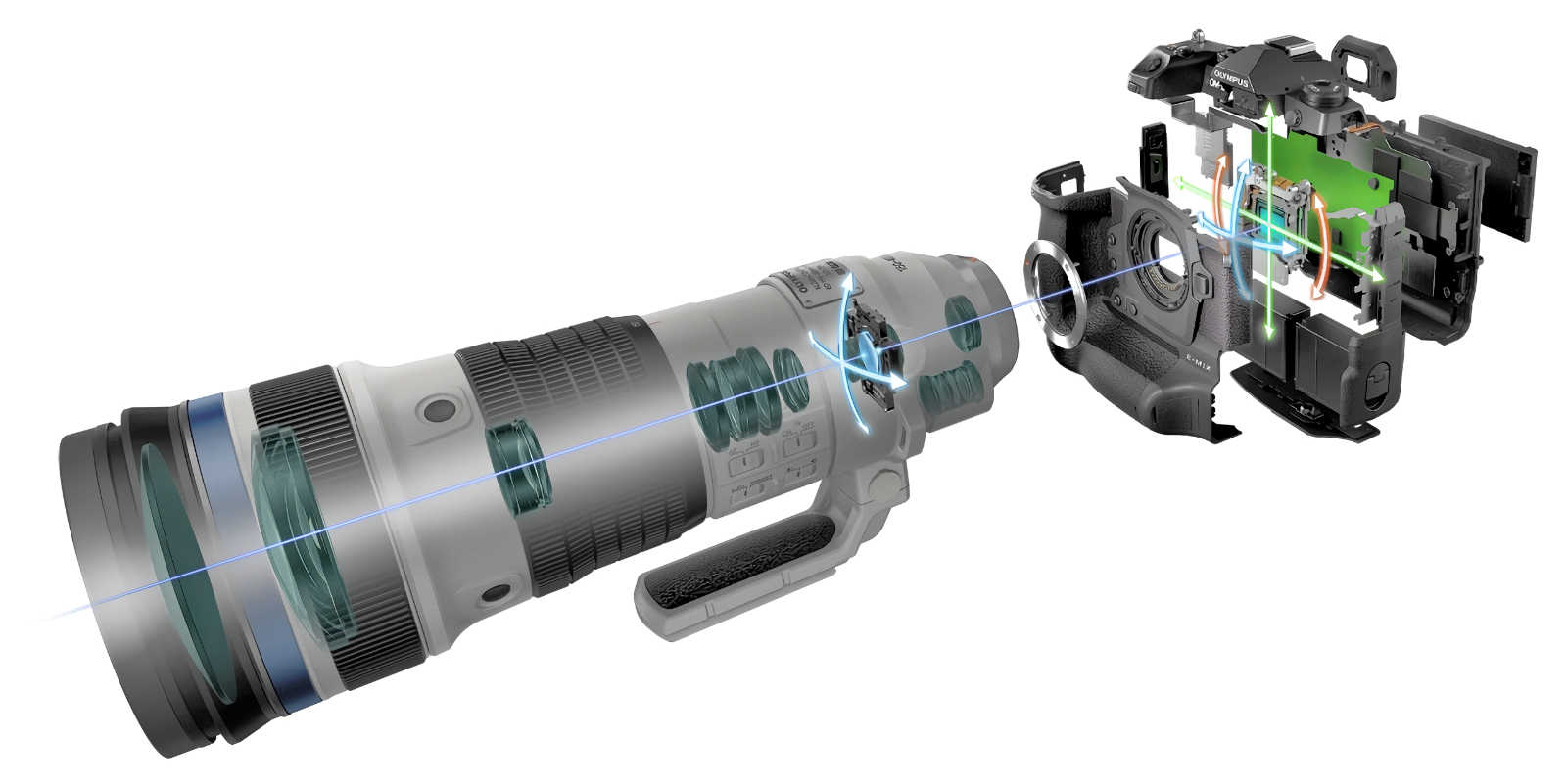 Ornate constructions and nano coating The lens construction consists of 28 elements in 18 groups, including a newly developed ultra-low-dispersion aspheric lens with large diameter and four ultra-extremely low-dispersion lenses, which in combination with the Z Coating Nano coating developed by Olympus, with difficult Capture environments such as backlighting, ensure sharp and clear images.
Compact, light and waterproof The lens housing of M.Zuiko Digital ED 4.5 / 150-400 mm TC1.25x IS PRO is made of magnesium-aluminum alloy. The lens cap is made of carbon fiber and prevents the center of gravity of the lens from shifting towards the end when the lens cap is used. The compact and lightweight construction is just 314.3 mm long and weighs 1,875 grams.
Dust and waterproof Like the OM-D E-M1X, the lens is dust resistant, splash resistant and frost resistant. Compared to the black coating on conventional lenses, the bright, heat-resistant coating in this model reflects the infrared rays of sunlight and prevents the temperature inside the lens from rising in hot weather. The front of the lens has a fluoride coating, which offers a smooth and scratch-resistant surface and facilitates cleaning.
5-axis Sync-IS image stabilization and fast autofocus M.Zuiko Digital ED 4.5 / 150-400 mm TC1.25x IS PRO supports 5-axis synchronization image stabilizer. With a focal length of 300 mm, it achieves 8-step EV image stabilization (according to the CIPA standard). Image stabilization is still available even if the telephoto lens range is extended up to 2000 mm using the optional MC-20 teleconverter. This means you can take a lot of free photos, which is especially important for wildlife, nature and sports photographers. In addition, the design was designed to use ultra-thin lenses and light focus lenses, which allow fast and accurate focusing across the entire zoom range.
E-M1X firmware update with bird detection
Simultaneously with the M.Zuiko Digital ED 2.5 / 150-400 mm TC1.25x IS PRO, Olympus also introduces a firmware update for E-M1X photographers to equip the camera with bird detection and various matching properties. With this new feature, the camera prioritizes eye detection for focus and viewing, so the photographer can focus fully on image composition to activate the shutter at the right time. The new firmware also includes several functional improvements such as the production of RAW video data to support professional video production. It will be available from December 3, 2020.
Accessory for M.Zuiko Digital ED 2.5 / 150-400 mm TC1.25x IS PRO
LH-115 lens hood (Included) A lightweight carbon fiber lens cap. Stapling the inside surface prevents internal reflections.
Wrist strap CSS-P121 (included) A lens strap designed for use with only a super telephoto lens. It is made of breathable mesh material, has an effective lining and non-slip texture.
Lens cover LC-115 Cap (included) This lens cap can be easily attached and removed for quick recordings.
Lens case LSC-1642 (included) This lens case consists of a three-layer construction that securely protects the lens. It is suitable for storing the lens with mounted lens cap, lens cap, protective filter and connected televerter.
Protection filter PRF-ZD95 (Optional available) The Zuiko PRF-ZD95 PRO protective filter is made of easy-to-clean glass, fluoride-coated, with a black frame and a satin, black aluminum frame that reduces glare and has a ZERO coating to suppress reflections and of ghosts. Available at a price of CHF 349.00.
Extended warranty
As with any Olympus camera and lens, the buyer of an M.Zuiko Digital ED 4.5 / 150-400mm TC1.25x IS PRO will receive a free six-month warranty extension (terms may vary by country) if they do. on the MyOlympus platform at Registration /my.olympus.eu.
The Olympus ED 4.5 / 150-400mm TC1.25x IS PRO will be available from the end of January at a price of 7499.00 CHF.
Further information can be found at olympus.ch/cameras
Source link