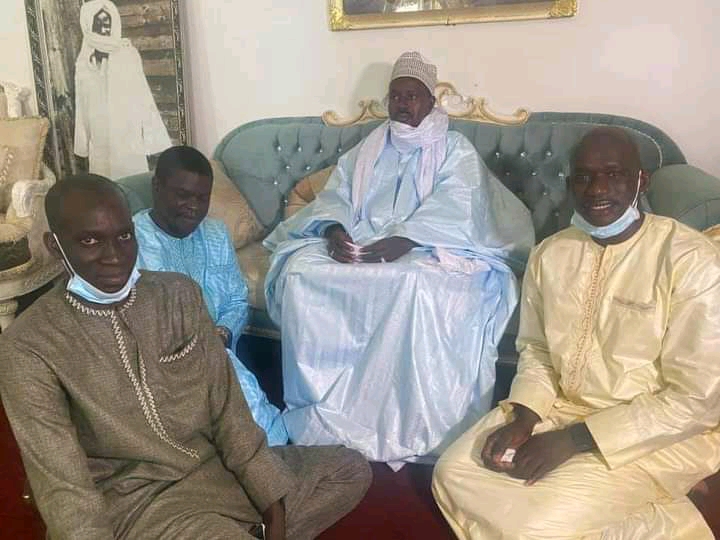 A delegation from the Senegalese Professional Information and Communication Union (Synpis) led by its Secretary-General Baba Casé, consisting of Ibrahima Lissa Faye (Online Press) and Massaer Dia, were received on Friday by Serigne Bassirou Mbacké Abdou Khadre in Toumba.
At the residence of Khadim Rassoul, the representative of the general of the Caliph of Mourid spoke with his hosts and called on them to be stricter and more ethical in handling information.
Serigne Bassirou Mbacké Abdou Khadre, after listening carefully to his hosts, extended the noble intentions of the journalists to clean up their profession. The representative of the General of the Caliph of Mouridas welcomed the approach of the Sypikas and promised to convey to Serine Mountaka Basirou Beke the complaints of his hosts and he hopes to understand these complaints from the state authorities.
The religious leader also acknowledged that it is not uncommon to see exaggerations in a well-educated journalist, but urged media actors to be strict in managing information and to ensure the ethics and ethics that underpin their practice. Serigne Bass Mbacké cited as an example: "Journalists often make the mistake of often confusing people who are not highly recommended to 'Koran teachers' or (Serigne Daara), as well as street children, often equating themselves with 'ndongos'. Daaras" (students ), which are not ".
And Serigne Bass Abdou Khadre emphasizes that in general, religious leaders who have several daaras in Toumba ensure that they house, feed and rinse the residents. He called on journalists to better understand the importance of their responsibility and to avoid straying from the truth. In front of the press office, the Caliph's spokesman made a philosophy: "Sergei Saliu said that, in the face of the newspaper statement, the attitude we should adopt is silence because. "If you deny it once, you yourself confirm the previous statements at the same time, it is a truth that I believe in and agree with."
Desire to clear the press
Earlier, the head of the Synpics delegation thanked on behalf of his peers the representative of the General Caliph of Mouridas for this audience and asked him to congratulate Serigne Mountakha Bassirou Mbacké.
Journalists briefed him on the steps taken in consultation with the government to clean up their profession and join forces to strengthen democracy, whose press is an important pillar of a country's stability. Because the opposite is a source of dangerous movements, something that should be avoided. They assured the religious leader of the will to state that the President of the Republic will accompany this hygiene policy, however, it is the adoption of decisions that will be implemented late, said Ibrahima L Faye.
Confusing the same trumpet Abdoulaye Bamba Sall, coordinator of the Mbacké correspondents' consultation framework, explained the importance of cleaning up the sector and condemned the invasion of the profession by third parties.
With the sun
Source link