Kalidou Kouliambali, Napoli
"MY PURPOSE TO WIN FOOD WITH SENEGAL"
RFI |
09/11/2018 | 11:00 GMT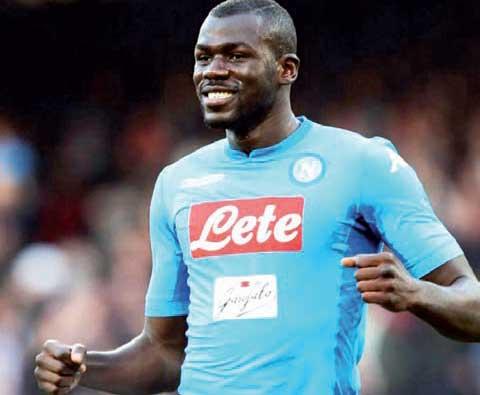 Impressive with the Italian club of Naples, Kallidou Kouliambal is perhaps the best African defender, at the moment. For RFI, Senegal's 27-year-old international defender is backing his career and ambitions with both Napoli and the national team. An interview on Valentina Clemente's microphone, which took place before the Naples-PSG meeting
Kallidou Kouloumbi, can you tell us about your career from FC Metz in France in 2004 in Naples in Italy in 2018?
It's an informal lesson, we'll say. Because I was trained in Metz when we played in the second division. But I had to go back to St. Dick [sa ville natale, dans l'Est de la France, Ndlr] because, for sports reasons, they did not hold me. At 18, I returned to Metz. And two years later, I signed my first professional contract. I was very happy! After the descent into the National (third division). It was a bit difficult but I wanted to play at National to go back to the 2nd division with the club. But then we decided by mutual agreement that I had to leave because the club had to have money and that I was "a player who could bring them money". So I decided to go to Belgium in Genk, where I spent two wonderful years. I played the Europa League. For me, the goal was mainly to get to know foreign football better, to play the European Cup. So, I did two years in the Europa League during which it went really well. Then I signed in Naples. And today, it's four and a half years that I'm in Italy. I am very happy.
Can you explain to three adjectives who are the Koulibaly player today?
It's hard to talk about myself … I'm a player trying to give everything to the ground, that never leaves anything. So, three adjectives are a bit difficult … I would say that "humility" for me is very important. "Respect" then, because I think without respect we go nowhere. And for the latter, we will say … (I hesitate) I do not know … I'm a man who does not give up on anything. I am always "stubborn" and always try to give my best.
Your name appears regularly on the shelves of many clubs, during the transport market, "mercato". It is something that pushes you to work harder, focus more or, on the contrary, who can distract you?
I'm still working to improve myself. I do not need the shuttle window or anything to improve myself. Since I am a professional, I am trying everyday to become a better player. Today, the fact that some groups are interested in me is pleasing. But for now, I'm totally focused on Naples. I know these are things that should not distract me. Especially because football goes very fast in both directions. Today, we talk about myself positively. But most importantly, I remain a quality player. So I try to show my qualities for the good of the team. Then, we will see what happens to me. We are too early in the season, we do not have to think about it. For me, the most important thing is that Napoli is right for the next round of the Champions League.
Let's talk about the Senegalese team, which is already fit for the 2019 World Cup. The Senegalese are very awaited. Do you think it is the right time to win CAN?
Hope! Since my first match with Senegal, my goal was to play the World Cup and we did it in the 2018 World Cup. Then I hope to receive a second World Cup qualifier. My second goal is obviously to win a trophy with the Senegal team. Senegal is a great Africa. But, for the time being, he has not won titles. This is losing. I hope to write history with Senegal as well. I know it will be very difficult. But we have a team that can win something. We have quality players who know what to do. […] We have talented players like Sadio Mané, who is our rival with Liverpool in the Champions League. We also have Keita Baldé, Mbaye Niang … We really have quality players. So it is up to us to get the mayonnaise to do well and try to win a title. In Africa, you know, people see things from a distance. But we know that it is very difficult to make every effort to win a title. We hope the next year will be the right one.
Since the program will be very busy until June, how do you get fresh at CAN 2019?
Yes, it will be difficult. Like last year, we had a busy schedule up to the 2018 World Cup, it was difficult to have a vacation. But this year, we will try to do the same thing as last year. I will give everything to the club, I will try to go as much as possible and try to win a title for not with Naples. Then we will think of the CAN 2019. We know that it is very important, a lot of competition. Today, with medical staff, with everything in football, we are able to maintain in the long run. I hope that I will be able to cope with the staff of Naples and Senegal to be ready for the African Cup. But before, I intend to make a great season with Naples.
On January 8, 2019 in Dakar, there is the African player rating of 2018. Do you see yourself among the three finalists who will be present in CAF Food?
I do not know. You know, individual titles are often given to attackers, dreamers, players who score goals. It's hard to be defensive. For me, the most important thing is that I did a good season last year and this success pushes me to work again to make an even better season this year. This trophy is important. But what I hope most is that it is better than last year. Then let the best man win.
(RFI.FR
Source link