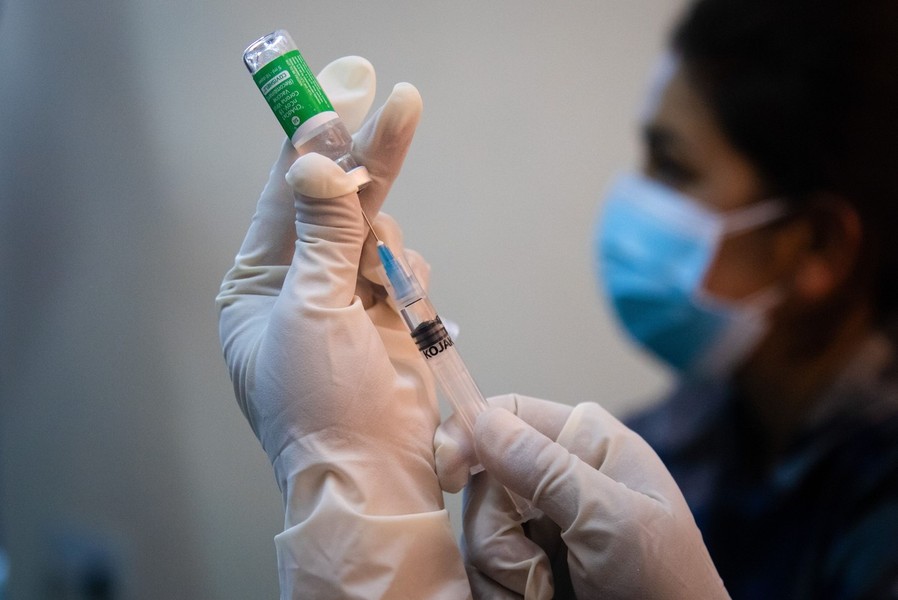 Following AstraZeneca's fight over delivery delays and even questioning the effectiveness of the Covid-19 vaccine, EU countries are seeing the company's vaccine stocks accumulate – unused, the Financial Times reports.
By Friday, France had administered 16% of the 1.1 million doses of the double-dose vaccine it received in the first dose in early February, according to the health ministry.
As of Thursday, Germany had given more than a fifth of the 1.45 million doses, about the same as Italy, which received more than 1 million doses. Spain has used just one-third of the total 808,000 doses since Friday.
The situation has led several European leaders to discuss the Oxford / AstraZeneca vaccine in recent days, with a French Health Ministry official even calling for a "collective rehabilitation campaign" to improve his reputation.
German Chancellor Angela Merkel has acknowledged that there is a "problem with the acceptance of the AstraZeneca vaccine at the moment" that is slowing down immunization with the company's vaccine. In an interview with the Frankfurter Allgemeine on Thursday, he urged people to keep an open mind about it: "All the authorities are telling us that we can trust this vaccine."
The tone has changed since a few weeks ago, when European politicians fought a bitter battle with AstraZeneca over its traditions and when French President Emmanuel Macron suggested that the vaccine was "almost ineffective" for older people. Now that they have installments, however, EU governments are facing a skeptical public, in addition to their own administrative challenges and constraints.
Health experts have warned that the already slow vaccination process on the continent could become even more difficult if the Anglo-Swedish company does not "absorb" the vaccine.
The EU vaccinated just 6.82 per 100 people by Friday, compared with 28.6 in the UK, 20.4 in the US and 91 in Israel, according to our data world.
The main reason for the lower acceptance of the Oxford / AstraZeneca vaccine was a policy choice made by many countries to limit its use in the elderly, until there is more data on its effectiveness.
In France, this meant that the vaccine was only offered to people aged 50 to 64 with comorbidities and health workers, while Spain recommended that it not be used in people over 55. Germany and Italy offer the vaccine to people under 65 years of age.
Romania only vaccinates people under the age of 55 with AstraZeneca.
Health experts say the negative titles have damaged the vaccine's reputation, reinforcing the perception that it is a lesser choice than the BioNTech / Pfizer and Moderna vaccines, which are based on so-called RNA messenger technology and have higher levels of protection.
A study suggesting that the AstraZeneca vaccine was less effective against the South African variant led health workers' unions in many European countries to ask their members to receive mRNA-based vaccines.
The Oxford / AstraZeneca vaccine has been shown to be between 62 and 70% effective in clinical trials last year. While BioNTech / Pfizer and Moderna vaccines are more than 90% effective.
But they all offer almost complete protection against hospitalization and death.
"I have nothing against the AstraZeneca vaccine," said Jérôme Marty, who heads a French medical association. "However, healthcare workers are often exposed to high viral loads in the hospital, so they need the most effective vaccines we have."
In France, which for years has had the world's biggest reluctance to get vaccinated, there have been reports of hospital staff losing shifts and suffering serious side effects such as fever and muscle aches after being vaccinated with the Oxford / AstraZeneca vaccine.
Young people often suffer from such side effects after the AstraZeneca vaccine because their immune systems have a stronger response than older people, say health experts.
A few weeks after the vaccine was rejected by the French president, Dr. Alain Fischer, a top adviser in France, said that "for reasons I consider unfair, this vaccine has received a relatively bad reputation in the press".
He just met us then. Is sure. It should be used without thinking twice and without delay. "
Fischer also referred to the results of a new study in Scotland, which has not yet been evaluated by colleagues, showing that the Oxford / AstraZeneca vaccine reduced the risk of hospitalization after a single dose vaccination.
"If confirmed, these results would be great news," he said, and could lead France to expand its use to people over 65.
The logistical problems in France also meant that doctors started vaccinating patients only this week.
Spain is constantly reviewing new data to decide whether to change the age limits for the vaccine. Health Department spokeswoman Sylvia Calzon said Thursday: "We are waiting for more evidence so we can make a decision with all the guarantees."
Even Macron was converted. "Given the latest scientific studies, the effectiveness of the AstraZeneca vaccine has been proven," he said after a virtual meeting of EU leaders.
"If this is the vaccine I am offered, I will get it, of course."
Source link