Inditex will definitely close many stores in Portugal
The Spanish group is betting more and more on the internet after the drop in sales caused by the pandemic.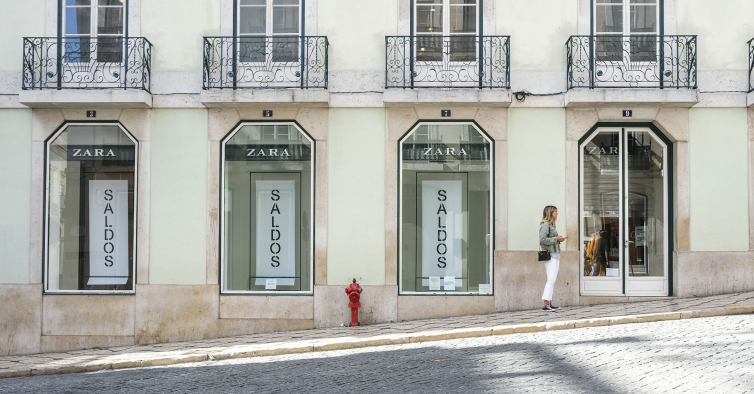 Zara on Rua Garrett must be left open,
The fashion giant Inditex has started a process to permanently close many stores in our country. This measure is in line with the natural space management strategy in many international markets. According to "Meios & Publicidade", these are premium locations, such as the Zara Home store in Chiado, Lisbon and many more located in shopping malls in Portugal.
This decision is in line with the company's new sales growth policy, which will focus more on online channels. According to the same publication, the closure of Zara Home in Rua do Carmo, in Chiado, Lisbon, as well as in other areas of the brand in Lisbon and Porto, has already been announced to employees.
However, "Meios & Publicidade claims that the list of stores that will close is longer and covers other brands of the Inditex group.
In Spain, for example, the company will close 79 stores Zara, Bershka, Massimo Dutti, Oysho and Pull & Bear by April 2021. The team will definitely close stores on some of the busiest streets in the country's main cities, such as the Gran Vía, in Madrid, and the Ramblas and Paseo de Gracias, in Barcelona. In addition, they will close in some of the main Spanish shopping malls. Massimo Dutti, Zara and Stradivarius will be the brands most affected by this strategy.
Over the past year, the company has experienced an unprecedented drop in sales due to the financial crisis caused by the Covid-19 pandemic. By the third quarter of 2020, sales were almost 29% lower than the same period in 2019. At the same time, online sales increased to 75% and 97% of website visits were organic.
According to Inditex forecasts, online sales could account for more than 25% of total revenue in 2022. In 2019, it was about 19 percent.
Source link