with Le360 (with MAP) on 06/11/2018 at 8:00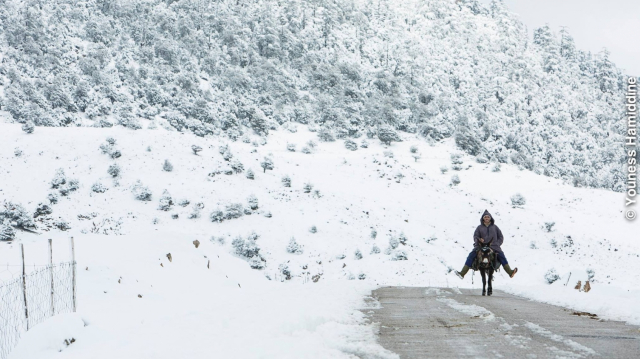 At the heights of Khénifra, in the winter of 2017.
© Copyright: Younes Hamiddine
Here are the weather forecasts for Tuesday, 06 November 2018, prepared by the National Meteorological Directorate.
– Cold weather in the hills and highlands.
– Some low clouds in the morning in places in the northern plains and the center with possible misty formations, and the following night on the northern coast.
– Steady weather with some cloudy or clear sky.
– Low to moderate wind from south to southeast and from north to west elsewhere.
– Minimum temperature in the range of -01 to 04 ° C in the reliefs, from 04 to 09 ° C in Oriental, Saiss, the Oulmes and Sulpes plateau and the southeastern slopes, from 10 to 15 ° C in the Mediterranean; Tangier, coasts and plains north and center, Souss and Southeast, and from 15 to 20 ° C in the southern provinces.
– Maximum temperature in the order of 09 to 14 ° C in the reliefs, from 14 to 19 ° C in the Mediterranean, Oriental, Saiss and in the plains and the northern and central coasts, 19 to 24 ° C in the central plains, in Souss , to the southeast, to the north of the southern provinces and close to the central and southern shores and to 25 to 30 ° C in other areas of the southern provinces.
– Raw sea in the Mediterranean and Detroit, upset on the Atlantic coast between Larache and Tan Tan, a bit upset upset between Tangier and Larache and between Tarfaya and Boujdour and upset elsewhere.
With Le360 (with MAP)