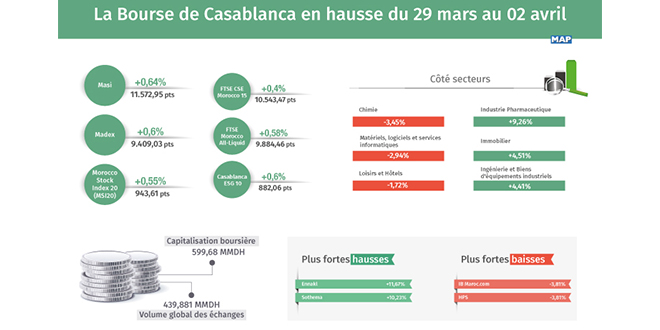 The Casablanca Stock Exchange closed the week from March 29 to April 2, 2021, with the main index of Masi gaining 0.64% at 11,572.95 points.
The stock index of Morocco 20 (MSI20), consisting of the 20 most liquid companies, rose 0.55% to 943.61 points and Madex, a solid index consisting of shares reported on a continuous basis, by 0.6 % at 9,409, 03 points. Internationally, the FTSE CSE Morocco 15 gained 0.4% to 10,543.47 points and the FTSE Morocco All-Liquid gained 0.58% to 9,884.46 points.
This uptrend is also confirmed by the benchmark Environment, Social and Governance (ESG) "Casablanca ESG 10", which rose 0.6% to 882.06 points. From a sectoral point of view, 7 of the 24 registered apartments ended the week with a negative meaning, the sectors "Chemicals" (-3.45%), "Hardware, software and IT Services" (-2.94%) and "Leisure and Hotels »(-1.72%) having noted the largest reductions. As for the winners, the sector "Pharmaceutical Industry" (+ 9.26%) achieved the best performance of the week, ahead of the sector of real estate (+4.51) and "Mechanical and Industrial Equipment" (+4, 41% ). In the process, the total trading volume amounted to more than 439.881 million dirhams (MDH).
The market capitalization amounted to approximately 599.68 billion dirhams (MMDH). In terms of the best weekly shows, Ennakl (+ 11.67%) and Sothema (+ 10.23%) signed. On the other hand, IB Maroc.com and HPS showed the strongest reductions with -3.81% each.
With trading volume above 62.54 MDH, Attijariwafa Bank was the most active instrument of the week, grabbing 14.53% of trading, ahead of BCP (11.13%) and Salafin (7.42%).
Source link