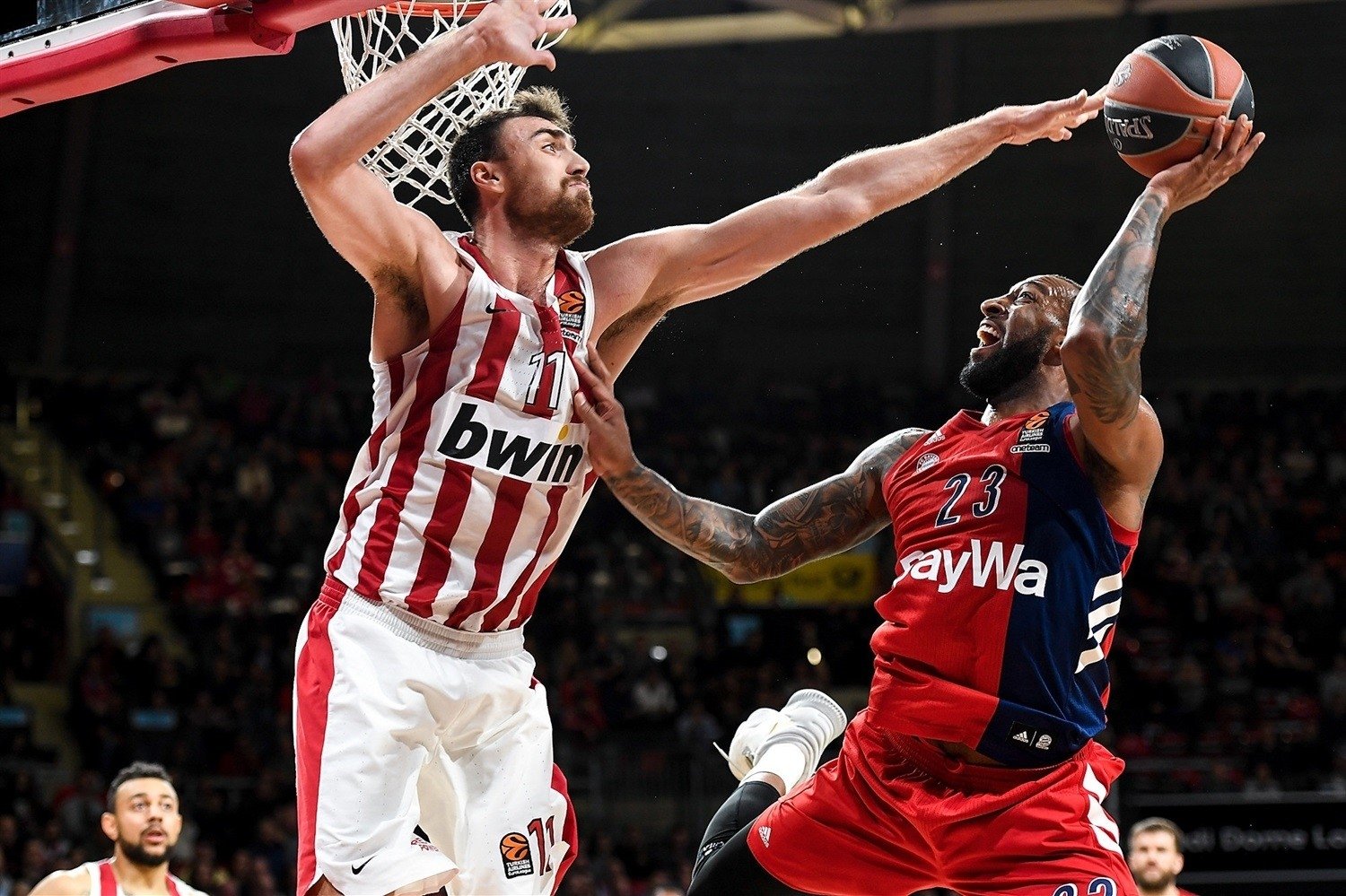 "Olympic": Zach Leday 12 (12th rector), Nikolay Milutinov 11 (7th step), Janis Timma, Janis Strēlnieks and Georgios Printezis after the 10th.
"Bayern": Vladimir Lucičius and Derrick Williams after 15, Petteri Koponen.
Olympiacos (4 wins / 4 losers) ranked 8th in the tournament table while Bayern (3/5) took the tenth place.
Real Madrid (8-0), who plays Madrid in their squad on Tuesday, is still losing Euroleague. The club for defending champions league 89:76 (22:28, 25:15, 15:14, 27:19) beat the Herbalife of Las Palmo (2-6).
"Really": Anthony Randolph 20 (10th episode), Clement Prepelitz 13, Facundo Campazzo 10, Rudy Fernandez 9
"Herbalife": DJ Strawberry 20, Eulis Baezas 14.
Euroleague tournament table after Tuesday's match:
| | | | | | |
| --- | --- | --- | --- | --- | --- |
| 1. Real Madrid | 8 | 0 | 731 | 607 | 124 |
| 2. CSKA Moscow | 7 | 0 | 621 | 556 | 65 |
| 3. Fenerbahce Istanbul | 7 | 1 | 690 | 628 | 62 |
| 4. Anadolu Efes Constantinople | 6 | 2 | 685 | 641 | 44 |
| 5. AX Armani Exchange Olimpia Milan | 5 | 2 | 611 | 579 | 32 |
| 6. FC Barcelona Lassa | 5 | 2 | 560 | 540 | 20 |
| 7. Panathinaikos OPAP Athens | 4 | 3 | 573 | 552 | 21 |
| 8. Olympiakos Piraeus | 4 | 4 | 624 | 622 | 2 |
| 9. Zalgiris Kaunas | 3 | 4 | 550 | 550 | 0 |
| 10. Bayern Munich | 3 | 5 | 642 | 646 | -4 |
| 11. KIROLBET Basconia Vitoria-Gasteiz | 2 | 5 | 555 | 567 | -12 |
| 12. Herbalife Gran Canaria | 2 | 6 | 659 | 739 | -80 |
| Khimki district of Moscow | 1 | 6 | 556 | 584 | -28 |
| 14. Buducnost VOLI Podgorica | 1 | 6 | 483 | 548 | -65 |
| 15. Maccabi FOX Tel Aviv | 1 | 7 | 607 | 669 | -62 |
| 16. Darussafaka Tekfen Istanbul | 1 | 7 | 607 | 726 | -119 |