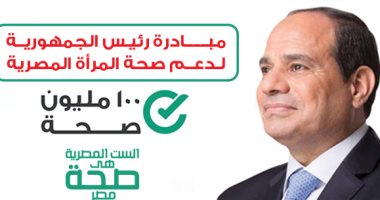 Egyptian women have received a lot of attention from the presidential initiatives launched by President Abdel Fattah El-Sisi in recent years, which coincides with World Health Day 2021, 12 million women over the age of 18 have been considered as part of his initiative President to support the health of Egyptian women, since its release in July 2019.
Perhaps one of the most important initiatives aimed at the health of Egyptian women, known as the Pregnant Women Initiative, launched in January 2020, aims to examine pregnant women and treat diseases that the mother may suffer from, such as syphilis and HIV. si In order to prevent its transmission to the fetus, using the highest modern detection and treatment techniques to maintain the health and safety of the mother and fetus during and after pregnancy.
Some 500,000 women were screened as part of the President's initiative to support maternal and fetal health, as a comprehensive system was developed to detect diseases that could be transmitted from mother to fetus during pregnancy, at a cost of 31 million and the cost of operation, medical supplies and reagents reached 30 30 million. With a total cost of EGP 112 million, the initiative aims to control 2.5 million women a year and protect 2.5 million children from diseases such as hepatitis B, syphilis and HIV, in an effort to reduce mother-to-child transmission rates. fetus from 45%. In only 2%.
In addition, pregnant women undergo pressure tests, physical weight and height measurements, and blood sugar measurements to prevent the transmission of disease to the fetus and mother, as there are types of infections that a pregnant woman is exposed to, which results in the fetus. be infected with genetic abnormalities and can be avoided by considering many things. The most important of these is the regular tracking and monitoring that this initiative aims at.
Source link