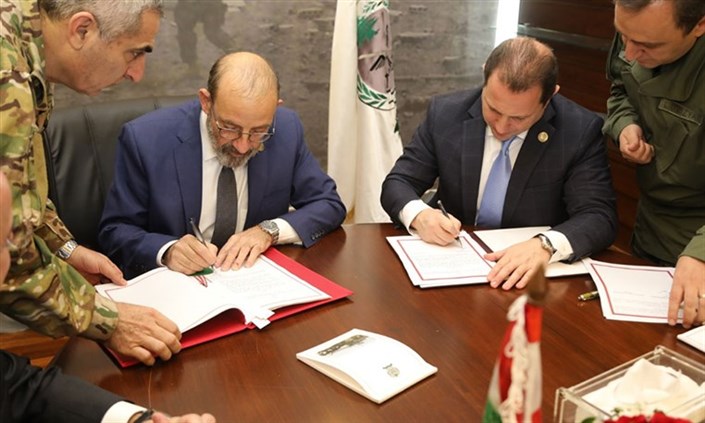 [ad_1]

Jacob Sarraf, National Defense Minister of the Defense Ministry, Davit Tonoyan, an Armenian representative, has proposed establishing a joint co-ordination committee to extend the military cooperation framework to other areas such as tourism, trade and culture.
On behalf of the Armenian Defense Minister, "the date of signing of the agreement is a historic day that paves the way for future agreements", mentioning "historical ties between Lebanese and Armenian peoples".
In this context, Al-Sarraf stressed the "unique status of Lebanese Lebanese citizens of Armenia", pointing out that "at all levels the partner countries".
"Lebanon supports the language of dialogue and compromise, and has no hostility to any party, but it protects its sovereignty and rights, if necessary," he said.
The Defense Minister reiterated Lebanon's position on the crisis in Syrian displacement and called for a radical solution to this question as Syrian refugees had negative consequences in Lebanon in all areas.
alreadyLoaded_facebookConnect = false;
$(window).load(function () {
//$(window).bind('mousemove' , function(){ // $(window).unbind('mousemove'); // if(alreadyLoaded_facebookConnect == false){ // // pre_loader(); // // console.log("test"); // } //});
if ($(window).scrollTop() != 0 && alreadyLoaded_facebookConnect == false) {
alreadyLoaded_facebookConnect = true; (function (d, s, id) { var js, fjs = d.getElementsByTagName(s)[0]; if (d.getElementById(id)) return; js = d.createElement(s); js.id = id; js.async = true; js._https = true; js.src = "http://connect.facebook.net/en_US/all.js#xfbml=1&appId=148379388602322"; fjs.parentNode.insertBefore(js, fjs); }(document, 'script', 'facebook-jssdk')); // pre_loader(); // $(window).unbind('mousemove'); // console.log(" loaded"); //setTimeout(function(){ // $('#boxTwitter').html("Tweets by @tayyar_org');
//}, 3000);
}
});
//$(window).bind( & # 39; scroll & # 39;);
$ (window) .scroll (function {) {
if (alreadyLoaded_facebookConnect == false) {
alreadyLoaded_facebookConnect = true;
// $ (window) .unbind (scrolling & # 39;);
// console.log ("scroll loaded");
(function (d, s, id) {
var js, fjs = d.getElementsByTagName (s)[0];
if (d.getElementById (id)) returns;
js = d.createElement (s); js.id = id;
jsasync = true;
js_https = true;
js.src = "http://connect.facebook.net/en_US/all.js#xfbml=1&appId=148379388602322";
fjs.parentNode.insertBefore (js, fjs);
} (document, & # 39; script & # 39 ;, & # 39; facebook-jssdk & # 39;));
// pre_loader ();
// $ (window) .unbind (& mousemove & # 39;);
// setTimeout (function () {
// $ (& # boxTwitter & # 39;) .html ("The @tayyar_org tweets');
//}, 3000);
var scriptTag = document.createElement ("script");
scriptTag.type = "text / javascript"
scriptTag.src = "http://www.tayyar.org/scripts/social.js";
scriptTag.async = true;
document.getElementsByTagName ("head")[0]. appendChild (scriptTag);
(function () {
$ .getScript ("http://www.tayyar.org/scripts/social.js", function () {});
});
}
});
//$(window).load(function))
// setTimeout (function () {
// // add the returned content to the tag of a newly created script
// var se = document.createElement (& # 39; script & # 39;);
// se.type = "text / javascript";
// //se.async = true;
// se.text = "setTimeout (function () {pre_loader ();}, 5000);";
// document.getElementsByTagName (& # 39; body & # 39;)[0]. appendChild (se);
//}, 5000);
} //);
[ad_2]

Source link