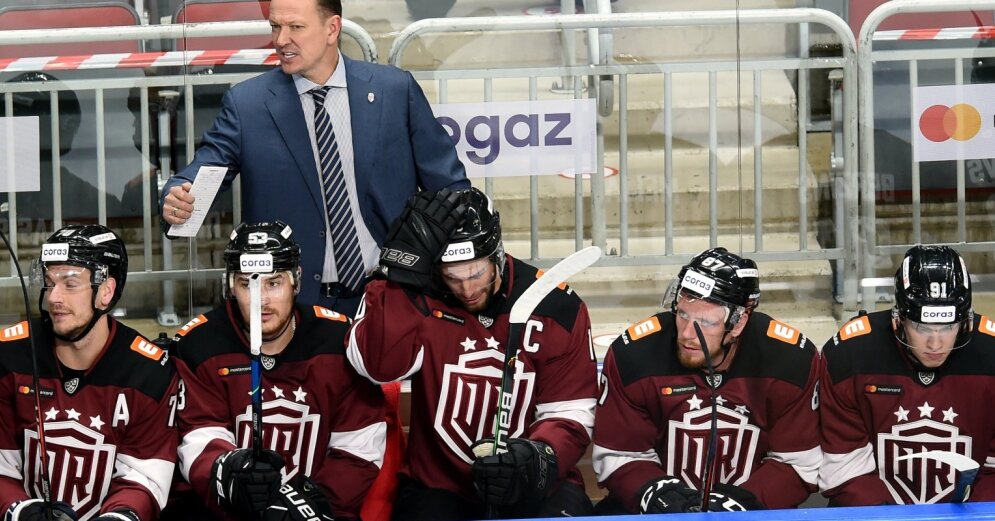 The team of the Continental Hockey League (KHL) Riga "Dinamo" in the second away game of the year against Nizhny Novgorod "Neftehimik" is expected to finish a series of four lost games.
Content will continue after the ad
Advertising
The match in Nizhny Novgorod between the two teams will start at 16:00 Latvian time, broadcast live on the channel "TV3 Sport 2".
After the game against Neftehimik, three more matches are scheduled for Reagan, the last of which will play against Moscow "Dinamo" on January 23.
This year, Dinamo already has five home games, of which the victory was won only in the first, defeating Moscow "Dinamo" 5: 4 This was followed by four defeats – 2: 6 against Minsk "Dinamo", 1: 4 against Yaroslavl "Lokomotiv", 1: 7 against CSKA, but in the last match with 2: 3 recognized the superiority of Cherepovets "Severstall".
Neftehimik, meanwhile, has played in five games on the pitch this year, celebrating success in three of them. In the first game of the year with 3: 0 managed to beat Novosibirsk "Sibirj", but the third consecutive success won against Nizhny Novgorod "Torpedo" (1: 0). After CSKA lost 1: 6, "Vitjaz" of the Moscow region was superior with 3: 0, but in the last match with an extension of 3: 2, "Jokerit" represented by Jānis Kalniņš lost
This season the two units met once. In early November, Neftehimik was 3: 1 in Riga. The latest success against the Russian club "Dynamics" was celebrated at the end of December 2018, when it won 2: 0.
In total, in the KHL championship, both teams have met 24 times, of which in 14 cases the Latvian team was superior.
"Dinamo" head coach Pēteris Skudra took with him three goalkeepers, nine defenders and 17 forwards.
Due to injury, there are no goalkeepers Jānis Voris and Stanislavs Gaļimovs in Reagan's ranks yet, but forwards Jānis Švanenbergs and Nikolajs Jeļisejevs "Dinamo" will take part in the attack. Also, due to injury, defender Jordan Murray did not go on the field with the team, while Jānis Jaks will soon go to the American Hockey League (AHL) Bakersfield "Condors" unit.
It is known that striker Davids Levins, who has joined the hockey team "Optibet" (OHL) "Zemgale" / LLU, will not be in the team. Defender Miks Tumanovs and forward Kārlis Bucenieks, Deniss Fjodorovs, Gustavs Millers, Rūdolfs Polcs, Patriks Zabusovs have remained in Riga to assist Riga's team in the Russian Hockey League (MHL).
The Riga club with 21 points in 44 games takes the last place in the league, while "Nefteimim" with 28 points in 45 games in the Eastern Conference is ranked in the last or 12th place.
"Dinamo" took the penultimate place in the western group and in the entire championship last season, without qualifying for the Gagarin Cup for the sixth consecutive year.
Riga "Dinamo" for five away games:
goalkeepers – Ivans Naļimovs, Bruno Brūveris, Ēriks Vītols;
Guards – Matthew Mayon, Roberts Mamicis, Ernest Osijek, Reese Scarlets, Kristaps Sotnik, Crissaps Jill, Tony Sunds, Gonars Skorkovs, Nikita Matejko
επιτιθέμενοι – Daniels Bņšrziņš, Rihards Bukarts, Roberts Bukarts, Lauris Dārziņš, Mārtiņš Dzierkals, Jevgenijs Gračovs, Emīls Ģēģeris, Miks Indrašis, Jaisis Lipons, Deniss Paršins, Gennady Stolarovs, Danila Larionovs