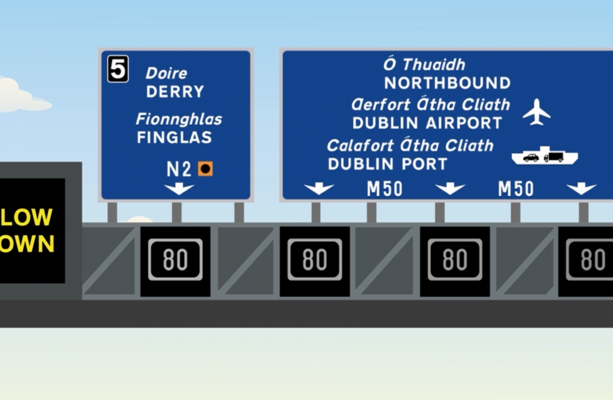 [ad_1]

Updated 40 minutes ago
Source: TheJournal.ie/YouTube
A gradual introduction of different speed limits on the M50 will take effect in the coming weeks, the Transport Minister announced.
Under the new highway plans, operators will be able to better slow down traffic in response to accidents, road works, bad weather and congestion. Drivers will be notified of changes via new digital signs.
Its purpose is to better inform drivers about future events and how they may affect their journey. It also aims to improve road safety.
The new system will mean that different lanes may have different speed limits at different points along the highway, depending on whether an event may occur.
There should be 19 new lanes above the road to inform drivers with a total of 386 lane control signals.
Ireland (TII) Transportation Communications Director Sean O'Neill said today that the new system would make the M50 a "safer and more efficient".
O'Neill said the highway is perhaps the most critical part of Ireland's road infrastructure and is an "Achilles' heel for the country" as "it must work well".
TII said the new system would improve travel time reliability by reducing the number of times vehicles have to stop and start on the highway, and reduce the need for drivers to brake abruptly when traffic stops.
The TII states that the new system will improve traffic flows, because reversals are often caused by the "accordion effect" of motorists slowing down suddenly in response to an incident or obstacle.
The new system should instead drive drivers to the proper speed long before they encounter an incident, avoiding the need for a sudden break and the rear backs that it causes.
Transport Secretary Eamon Ryan was present today at the launch of the plans, which will see the new speed limits implemented on an advisory basis before the bills are passed by Christmas to be "mandatory and enforceable".
"It starts with the right advice, it's a good test to make sure the whole system works. "But a Naughton minister himself will introduce legislation or he has to introduce legislation in Dáil this condition that would make it statutory, legal," he said.
O'Neill of TII said the gardaí would impose new variable speed limits and that M50 traffic cameras would only be used to monitor road conditions and would not be used to catch speeding drivers.
"This is to enforce a secure environment, enforcement will continue to be carried out by a Garda Síochá on site. These cameras will not be used for this. "It is for monitoring, for data collection, so that if an incident occurs, we can respond immediately with the information to the driver in real time, that is why it is," he said.
O'Neill Additional Limits may be up to 30 km / h if required.
The new system will have five phases, with the first phase starting in the coming weeks.
Autumn 2021 – J4 ​​Ballymun to J6 Castleknock
Spring 2022 – J6 Castleknock to J9 Red Cow
Summer 2022 – J9 Red Cow at J12 Firhouse
Autumn 2022 – J12 Firhouse to J14 Sandyford
Winter 2022 – J14 Sandyford to J17 M11 and J3 M1 to J4 Ballymun
#Open journalism
No news is bad news
Support the Newspaper
Yours contributions will help us continue to deliver the stories that are important to you
Support us now
TII CEO Peter Walsh said today that the new system would make it safer for emergency services to deal with highway accidents.
It's all about safety, you've seen the incidents and anyone using the M50 will know how dangerous it can be. Both the men and women of the highway companies, the fire service, the gardaí, the ambulance service go out there and deal with these incidents. So this system, which will advise drivers of the appropriate speed to drive when an accident occurs is what will make it safer or all the people involved.
"We have 400,000 trips a day on the M50 and where you see congestion levels is very upsetting. And you know it with a start-stop wave, it affects efficiency. "
Busy
M50 traffic levels have now returned to 95% of levels in September 2019, the data show.
Highway travel increased by 40% between 2011 and 2019 and before the pandemic, about 400,000 trips were made every day.
The busiest part of the M50 was between junction N2 in Finglas and junction N3 in Blanchardstown.
The gradual approach of the new system is intended to help drivers get used to the new system and adjust their driving before the speed limits.
The system is expected to be fully operational in the M50 by early 2023.
– Additional references by Orla Dwyer.


[ad_2]

Source link