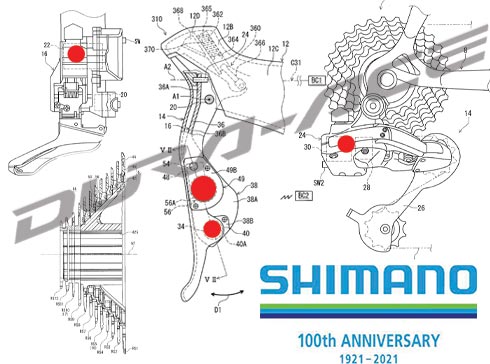 Through Guillaume ROBERT
Sunday, November 22, 2020 – News

– This article has been read 9508 times. Comments: 10.
It is undoubtedly the most anticipated innovation of 2021. The Shimano Dura-Ace group was expected by many in 2020, but the Shimano timeline (or pandemic) looks set to change in 2021.
Fortunately, in 2021, Shimano will celebrate its centenary, on March 23, 2021 exactly. Should we expect a presentation of this new team on this date? Nothing is less certain. Riders' professional bikes should be closely monitored from the first races of the season.
On the other hand, studying the many patents that the brand has published in recent years (at least 35 in 2020 only), we can assume that the future peak of the brand will be at 12 speeds and partly wireless.
2021, a key date for Shimano
Yes, Shimano will celebrate its centenary in 2021. In 1921, the brand produced the first freewheel.
Then came the first 3-speed hub in 1957 and the launch of the first Dura Ace group in 1973. Shimano has already launched a website for this hundred where you can discover the brand's major innovations during this time. Centennial: https://www.shimano.com/en/100th/
Obviously, this centenary is therefore an important date for Shimano and the release of the new Dura-Ace group would be perfect this year in 2021 … or even on March 23, 2021. Of course, I contacted Shimano about this, but obviously, the brand is more than discreet, with no information leaks.
The first shipments are scheduled for May.
What do you call Dura-Ace?
The main patents on features in this Dura-Ace 2021 team can be found here:
Already, from a reference point of view, logic would like this future team to be the R9200, with several variations as in the current R9100:
R9200: 12 speeds
R9220: 12 speed, with disc brakes
R9250: 12 speed Di2
R9270: 12 speed Di2, with disc brakes
12 speeds, required
Because yes, it seems from the first echoes that the Shimano retains versions for slip brakes as well as mechanical versions, unlike SRAM which now only offers eTap AXS versions.
Unsurprisingly, this team will be equipped with a 12-pin cassette, as will Campagnolo and SRAM. 12 speeds already in the Japanese brand within the MTB teams, which must require a Micro Spline free wheel body in order to allow the use of a gear of 10 teeth and could reach up to 48 teeth. This leaves room.
Shimano already filed a patent in 1996 for 14 pinion cartridges… therefore why not change immediately to 13 speeds !
Hopefully this 12-speed change will not impose a new wheel geometry, which would also mean a lack of backward compatibility with the old wheels.
Nothing says that Shimano will proceed to the systematic use of a cogwheel 10, especially when we know the watt losses generated by such a gear. They seem to move more towards the cassettes while maintaining an 11-tooth start, but tightening the gears to have fewer gaps, even offering type 11-25 to 11-30 cassettes or even offering new 11-32 ones.
Thus, the Shimano will avoid the inconvenience caused by the change to 11 gears, which made all the wheels of the older generation completely obsolete.
One thing is for sure, for this photo effect April Fool's Day in 2014 and the appearance of a 12-speed Shimano cassette will become a reality in 2021. Rely on the photo below, there are indeed 12 gears!
Plateau pairs should remain traditional, with 34-50, 36-52, 39-53, 42-54 or 42-55. We can also believe that versions 48-32 or 46-32 appear.
Levers without wires?
Shimano seems to choose a combination of wireless levers (powered by a push-button) and deactivators connected to a battery.
The lever patent has many versions that all seem to have the same dimensions and specifications, but it is clear that Shimano seems to want to continue to offer brake pads to the next generation Dura-Ace.
The position of the button battery does not yet appear definitive according to the sketches, whether they are located on one of the levers or in the pressure cooker. A button battery is more than enough for a lever, as there is only one electronic wave to send, there is no motor running in this part. A CR2032 battery pack can therefore easily have a battery life of almost two years.
Note that Shimano mentions one piezoelectric system which could equip these levers and would serve, thanks to the movement of the levers, to recharge the battery. Enough so that you no longer have to worry about any maintenance at this level! This would undoubtedly be a big step forward.
The ergonomics of the levers may be slightly modified, inspired by the GRX models with perfect grip!
Wireless derailleurs .. or not
If patents still claim wireless derailleurs with a battery mounted on each gear unit …. I do not think Shimano will immediately produce a group whose derailers are not connected to a battery. Why ? For autonomy. Currently, Shimano transmissions manage to exceed 5000 km of autonomy. Batteries, especially if they are small, can not reach 1000 km, especially for the front derailer.
In my opinion (which is just my opinion), the Shimano will change to a wireless system the day we have very small batteries, but we will still offer quite a lot of autonomy. This will pass:
or through innovations in battery autonomy
or with autonomous piezoelectric system-based recharge systems
In the latter case, we could even find a system that adequately recharges the batteries without having to worry about possible recharging.. In any case, I firmly believe in such a solution for the near future (in 5 years).
Most likely we will remain in a wired connection between the derailleurs and a main battery. An acceptable solution, because if wireless SRAM is praised for its ease of assembly due to the complete absence of cables, it only applies to cyclists or enthusiasts who assemble their own bikes … and we do not disassemble the entire transmission every day.
In any case, in the following drawings, SW1 and SW2 refer to buttons (Switch) used for coupling to levers, which proves that the connection between levers and derailleurs would be made without wire
Aluminum, always … and two discs
The Shimano has always been stuck with an aluminum crank (although a very limited Dura-Ace carbon has seen the light of day) and the new series should not be an exception.
Aluminum now makes it possible to have very light cranks that are at least as rigid as the carbon versions.
With the single chainsaw appearing to be more than just a niche market, the new Dura-Ace should not be offered with this option. Maybe the Ultegra R8100, in 2022, will benefit from a 1x version, but again, it will all depend on the market demand for this type of product … and honestly, I do not believe it too much.
Aesthetically, I hope the Shimano changes to be more innovative than the design of the R9100 series. For me, the R9000 series was undoubtedly the most desirable with two-tone aluminum and black. The black version R9100 is for me very close to the Ultegra series, very shy!
What can I wish for?
But what do you really want? Shimano, for sure, will not only offer a 12th gear in the future of Dura Ace, content that will be a "fan" of Campagnolo and Shimano.
No, Shimano needs to go much further. One thinks of semi-wireless more than likely and perhaps a system of recharging the batteries in the levers, through a piezoelectric system.
On the other hand, it is important for Shimano to improve the disc brake system, which often generates parasitic noises, in any case more than its competitors. The brand should easily offer disc brakes that no longer pose a problem at this level.
Finally, the brand could take advantage of this generation it offers new Syncro-Shift options for gear changes optimized semi-automatically.
One thing is for sure, this Dura-Ace vintage 2021 team is waiting for all equipment lovers. A new Dura-Ace band is still an event on the cycling planet and Shimano is rarely disappointed.