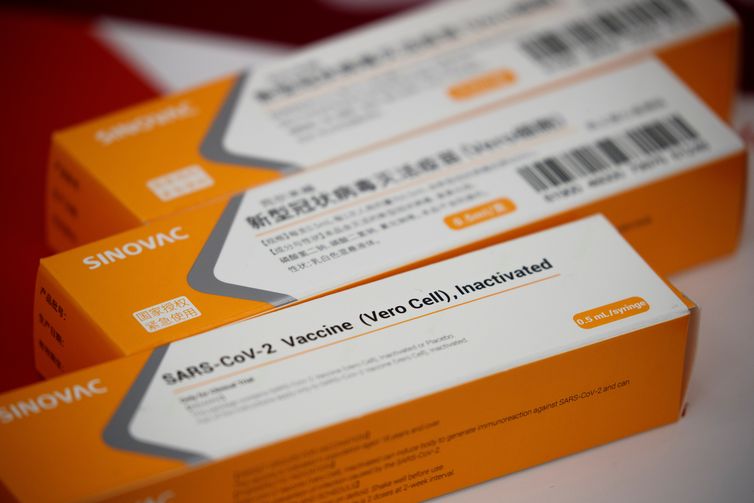 The Ministry of Health confirmed today (9), in a note, that all doses of vaccines against the new coronavirus produced or introduced by the Butantan Institute will be purchased by the federal government and distributed exclusively to the Unified Health System (SUS).
According to the dossier, ministerial technicians and representatives of the Sao Paulo laboratory met yesterday (8) to discuss the incorporation of CoronaVac into the National Covid-19 Vaccine Operation Plan.
At the end of the meeting, it was agreed that the federal government would have the exclusive right to purchase all the immunizers produced or imported by Butantan. In addition, it is up to the ministry to distribute CoronaVac in the 26 states of Brazil, as well as in the Federal District, at the same time and in proportion to the size of the population of each federal unit.
"Thus, Brazilians from all over the country will receive the vaccine simultaneously, as part of the integrated and tripartite logistics carried out by the Ministry of Health and the state and municipal health secretariats," the file said in a note released this afternoon.
On Thursday (7), the Minister of Health, Eduardo Pazuello, announced the signing of a contract with the Butantan Institute for the purchase of up to 100 million doses of CoronaVac. The deal, however, provided for the initial purchase of 46 million units to be delivered by April this year and the possibility of acquiring another 54 million units later.
The total market value exceeds $ 2.677 billion, including all direct and indirect normal costs arising from contractual execution, including taxes and / or taxes, social, labor, social security, tax and trade charges, and insurance, inter alia. The contract already signed proves that the payment is made after the National Health Surveillance Service (Anvisa) grants the laboratory the registration or the permit for urgent use of the vaccine.
A new meeting should take place in the coming days, with the participation of the Minister of Health and representatives of the National Health Council of Secretaries (Konas) of the states and the National Council of Municipal Health Secretariats (Conasems). In this meeting, the next steps in the logistics and vaccination campaign calendar will be discussed.
CoronaVac is produced by the Butantan Institute in collaboration with the Chinese pharmaceutical laboratory Sinovac.
Also Thursday, the government of Sao Paulo, with which Butantan is linked, announced that tests conducted in Brazil show that the minimum efficacy rate of the new coronavirus vaccine is 78%. According to the Sao Paulo government, none of the volunteers who took part in the trials and took covid-19 developed the severe form of the disease. No deaths were reported between them.
Source link