Compare to social networks
For decades, the boxing engines of the models R, RS and Adventure GS of BMW Motorrad They have become the brand of adventure bikes all over the world. For over 25 years, BMW Motorrad has used BMW ShiftCam 4 valve technology coupled with electronic fuel injection technology and a closed circuit catalytic converter to achieve the highest possible power and torque output.
With a new, much more advanced boxer engine, the new one BMW R 1250 R, BMW R 1250 RS and BMW R 1250 GS Adventure Not only did they achieve a new level of power and torque, but it was also possible to optimize the fineness and smoothness of operation, especially in the lower engine speed range.
In addition, the new engine offers improved levels of emissions and fuel consumption, as well as a particularly unique and distinctive BMW sound. For this purpose, the technology BMW ShiftCam Used for the first time in BMW Motorrad's mass production: this allows changing the valve timing and valve travel on the intake side. Additionally, the intake camshafts are designed to asynchronously open the two intake valves, resulting in improved turn of the new and incoming mixture and therefore more efficient combustion. Other technical changes to the engine are related to camshaft drive, now driven by one toothed chain (former rolling chain), an optimum oil supply, double injection valves and a new exhaust system.
Electronic help
These new models feature two available driving features, AUC and Hill Starter Control of the series. The Automatic Stability Control (ASC) series guarantees a high level of safety when driving. For its part, the Hill Start Control is also a typical feature in all three models, allowing a comfortable start on the slopes.
For their part, Driver Drivers "Pro" now available as optional, with additional driving mode "Dynamic" and "Dynamic Pro" (adjustable), DTC, and the BMW R 1250 GS Adventure, also driving modes "Enduro" and "Enduro Pro" (adjustable).
In turn, the ABS Pro offers even greater safety when braking, even in an inclined position. The new function Dynamic Brake Control (DBC), provides additional braking safety, also in difficult situations, preventing inadvertent activation of the accelerator. Incorporating engine control, the torque decreases during braking to fully utilize the braking power on the rear wheel. This keeps the bike stable and reduces the braking distance.
Equipment
New BMW R 1250 RS and BMW R 1250 GS Adventure now have an LED projector as a standard. In addition to this, day driving light LED Available as optional equipment for the BMW R 1250 RS and the BMW R 1250 GS Adventure as well as the BMW R 1250 R with halogen headlights.
The three new models have a system "Connectivity" , including a 6.5-inch TFT display, operated by a serial multi-controller, which allows the driver to access the connectivity and vehicle functions quickly and intuitively. These bikes also feature smart emergency call as a factory option (available only for certain markets).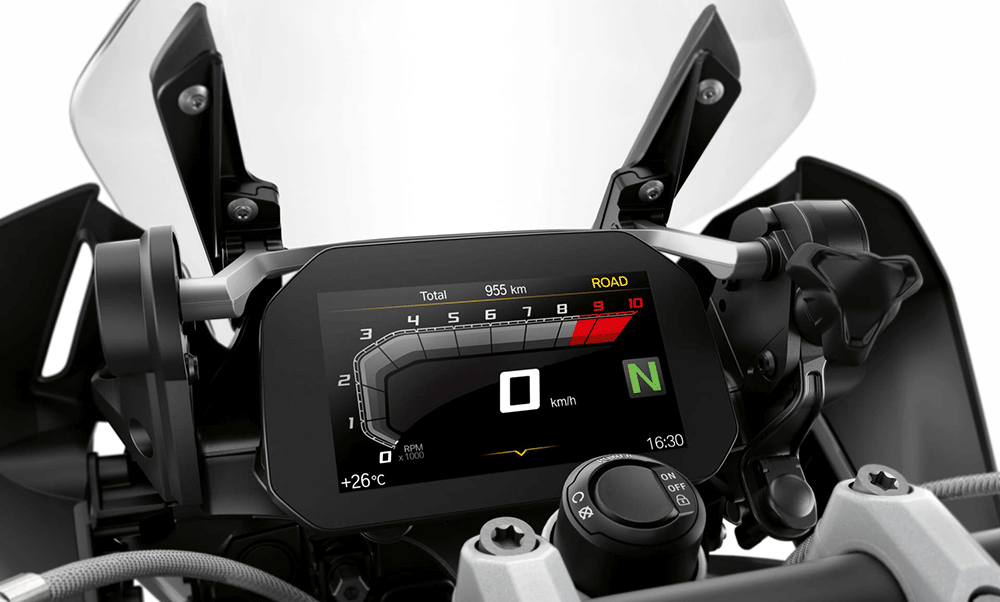 Suspensions
As optional equipment, the BMW Dynamic ESA "new generation". With this system, damping is automatically adjusted to the situation depending on driving conditions and maneuvers, and there is also automatic compensation for all load conditions.
Accessories and customization
BMW Motorrad Spezial offers high quality customization capabilities as optional factory equipment, to the highest quality elements, in many cases manual processing with attention to detail. The packages Option 719 Classic and HP Available for new models.
The new BMW R 1250 R and BMW R 1250 RS can also be fitted with the Classic or Sport wheels, as well as the exclusive color and optional 719 seat.
The top points of the new BMW R 1250 R, the BMW R 1250 RS and the BMW R 1250 GS Adventure:
New boxing engine with BMW ShiftCam technology with more power, fuel consumption and optimized emission levels. more smooth operation.
Highest power and torque: 136 hp at 7,750 rpm and 143 Nm at 6,250 rpm. (previously 125 hp) / 125 Nm.
Cilindrada rose to 1,254 cc (before: 1.170 cc).
Asynchronous opening of the intake valves for more efficient combustion.
The camshaft movement now via a toothed chain (before the roller chain)
Optimize oil flow and cool the base of the piston.
Fetch sensor system to optimize travel suitability.
The latest generation of BMS-O engine control and the use of dual-jet valves for even more efficient combustion.
New exhaust system for optimal performance.
Two driving modes, ASC series and Hill Start Control.
Pro Pro, with additional driving modes, Dynamic Traction Control (DTC), ABS Pro, Hill Start Control Pro and Dynamic Brake Assist (DBC), available as optional equipment at the factory.
Dynamic Electronic Suspension "Next Generation" ESA with fully automatic load compensation.
Adjustable seat height in the R 1250 GS Adventure (except HP Style), as well as a wide range of factory seat height variants.
New optional sports steering wheels for the BMW R 1250 R for a more dynamic driving position.
LED spotlight for the BMW R 1250 RS (completely new design) and BMW R 1250 GS Adventure as a standard; Daylight LED for all models as optional factory equipment.
Connectivity: 6.5 inch multifunctional instrument cluster with full color TFT screen.
Smart emergency call as a factory option available in some markets.
BMW Motorrad Spezial: adaptation features as optional factory equipment.
A wide range of optional equipment and original accessories from BMW Motorrad.
New front wing and cockpit cover (BMW R 1250 R and BMW R 1250 RS).
The new BMW R 1250 GS Adventure with new inflatable features such as the black granular top of the storage compartment with the GS logo embossed, the suction tube finish, the electrode heater finish, the tank stand and the engine protection rods adapted in the design of the frame.
About
Compare to social networks
Source link